On sale!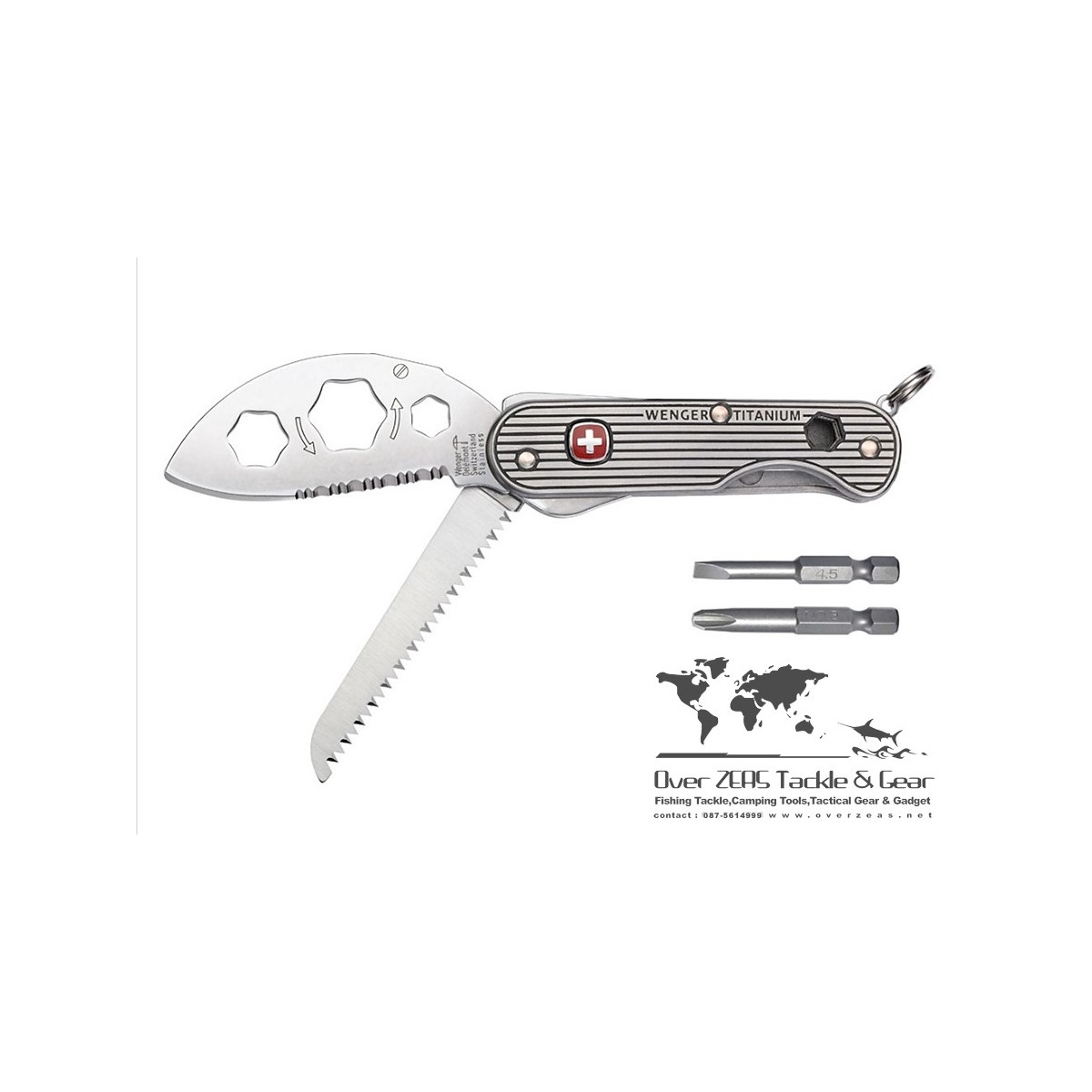 มีดพับ Swiss Army Titanium 2 Knife by Wenger
฿3,350.00
ยังไม่ได้รวมภาษี
มีดพับ Swiss Army Titanium 2 Knife by Wenger
สินค้าพร้อมจัดส่ง ! (สถานะของสินค้าจะตรงตามที่แจ้งไว้)
จัดส่ง EMS ฟรี ! (เมื่อซื้อครบ 800 บาทขึ้นไป)
Extreme Use, Extremely Useful - the Wenger Titanium 2
Wenger, makers of the Genuine Swiss Army Knife, teamed up with speed climber Ueli Steck to create a line of Titanium knives rugged enough for extreme mountain climbing conditions, while still extremely useful for everyday adventures. The rugged stainless steel blade on the Titanium 2 Knife is 50% thicker than standard blades, and is equipped with an amazing 6 functions. The case of the Titanium 2 is Titanium with striations. We invite you to take the Titanium 2 along on your next adventure.

Features of the Wenger Titanium 2 Knife include:
Partially Serrated Blade with Safety lock. The innovative blade provides two cutting options by placing aggressive serration at the base of the blade and a straight edge at the tim. The blade securely locks in position and, even with gloves on, can be disengaged by depressing the Wenger Cross or shifting the liner lock.
Hexagonal Keys. To perform the unique duty of a wrency, Wenger created a thick and wide blade to accommodate three hexagonal keys: 7mm (M4), 10mm (M6), and 13mm (M8).
Bits. By integrating a 1/4-inch bit adapter into the handle the knife can use the included Phillips or flat head screwdriver bit or any of the available bits to accomplish a variety of tasks.
Wenger Titanium 2 Knife Full Feature List:


Partially serrated 65mm blade

Hexagonal key - 10mm (M6)

Hexagonal key - 13mm (M8)

Large flat screwdriver (14mm)

1/4 inch bit adapter

Flat head screwdriver bit (0.6mm x 4.5mm, 50mm)

Philips head screwdriver bit (#3, 50mm)

Key ring

Lightweight pouch

Titanium handles with striations

Lightweight pouch

 
Length (closed): 2.5 inches
Weight: 2.89 ounces
More About Ueli Steck
Professional Mountaineer and speed climber Ueli Steck grew up climbing in Switzerland. He climbed the Eiger North Face for the first time at age eighteen; It took him ten hours. After intense training, in 2008, he climbed the Eiger north Face in an incredible two hours and forty seven minutes carrying only essential equipment. He would go on to set speed records on other famous peaks in the Alps: the Matterhorn and Grandes Joraasses.

Boxed • Swiss-made • Lifetime Warranty