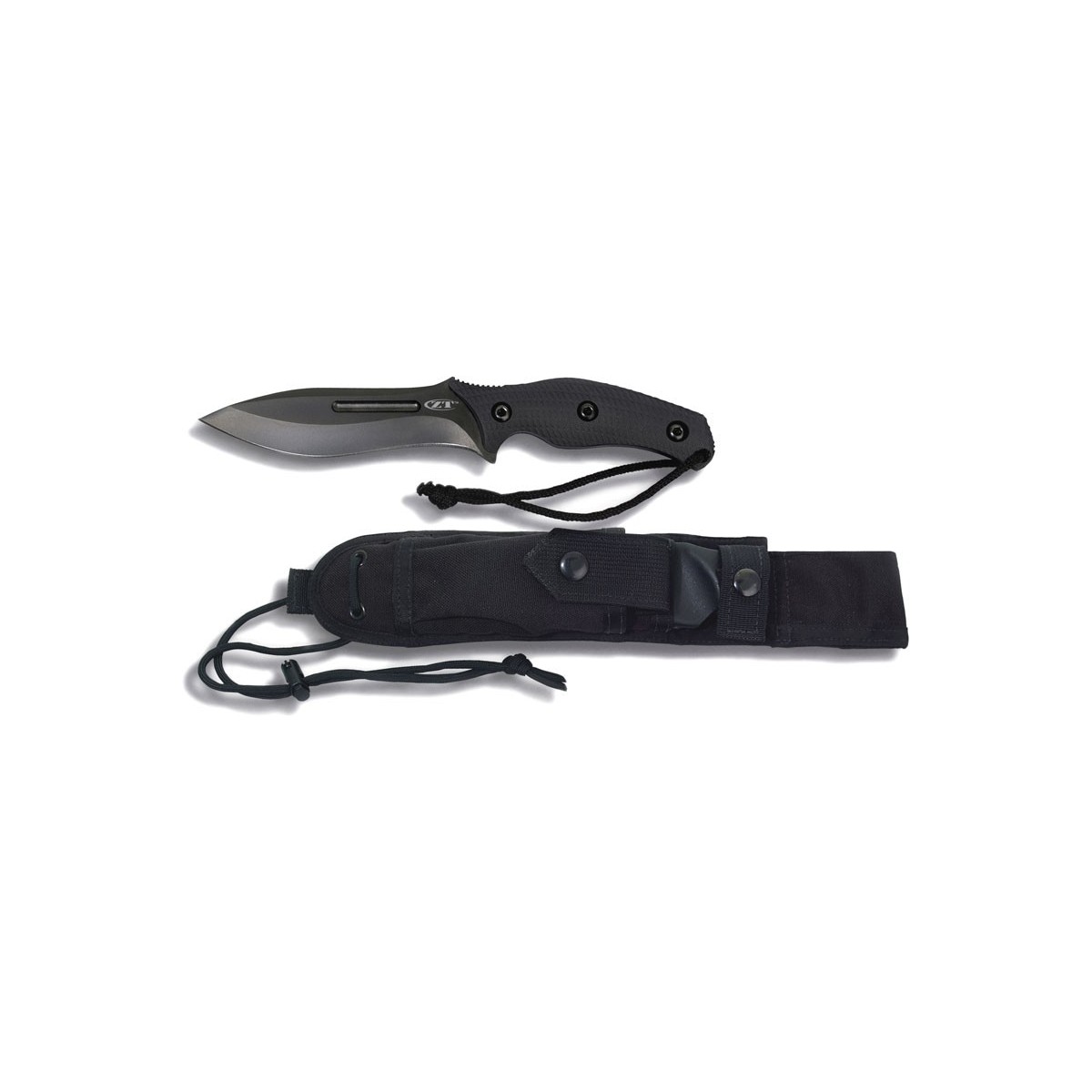 มีดใบตาย Zero Tolerance Model 0100 Fixed 5-3/4" CPM3V Steel Blade, Black G10 Handles
฿8,200.00
ยังไม่ได้รวมภาษี
มีดใบตาย Zero Tolerance Model 0100 Fixed 5-3/4" CPM3V Steel Blade, Black G10 Handles
สินค้าพร้อมจัดส่ง ! (สถานะของสินค้าจะตรงตามที่แจ้งไว้)
จัดส่ง EMS ฟรี ! (เมื่อซื้อครบ 800 บาทขึ้นไป)
Description




ZT0100

: Model 0100 - Fixed Blade
Zero Tolerance Knives

The 0100 is a military-style, fixed-blade knife designed by Ken Onion and featuring an innovative "recurve" blade shape. Onion designed the 0100 blade for multi-tasking, minimal mass, and maximum performance. It provides ideal leverage for cutting the toughest materials and a perfectly centered point for precision piercing.


The CPM 3V tool-steel blade is Tungsten DLC-coated in matte black. The scales are 3-D machined G-10, also in matte black. The machining provides a secure grip, while the G-10 was selected because it exhibits extremely high mechanical strength - even in extreme temperatures. G-10 is also an excellent insulator.

CPM 3V tool steel is designed to provide maximum resistance to breakage and chipping and is highly wear-resistant steel. CPM 3V offers impact toughness greater than A2, D2, Cru-Wear or CPM M4, approaching the levels of S7 and other shock resistant grades, while providing excellent wear resistance, high hardness and thermal stability for coatings. With a Rockwell rating of 58-60, CPM 3V is the tool-steel for tools that have to perform under the harshest of field conditions.

The 0100 comes with a nylon-webbing sheath with multi-carry configuration capability and a convenient utility pocket.

With its bold looks, the premium-quality materials, and precision function, the 1011 offers knife users who depend on their blades in life-and-death situations everything they demand.


Specifications
Blade Length: 5 3/4" (14.6 cm)

Blade Thickness: 0.190"

Overall Length: 10 1/2" (26.7 cm)

Blade Material: CPM3V tool-steel with Tungsten DLC coating

Scales: 3-D machined, G-10 in matte black

Weight: 11.4 oz. (21.0 oz. with sheath)

Includes nylon sheath with MOLLE compatible, multi-carry configuration webbing and universal pouch

Made in USA
3 รายการสินค้าประเภทเดียวกัน